We have initiated the publication of a series of three articles to present our current vision regarding Customer Relationship digital projects and explained in the first  blog article, "CRM and artificial intelligence: how to develop and optimise your data?", the importance of starting these projects with a strategic vision as well as an audit of the available (and required) data capital. This series aims to conclude in a new Customer information system management approach for sales teams. This second article will walk you through the 3 pillars of digital projects that combine CRM and Marketing.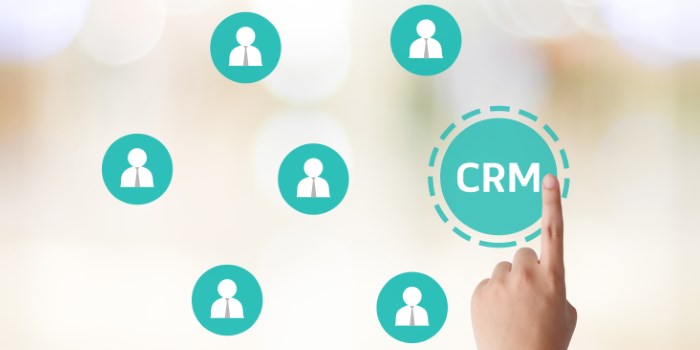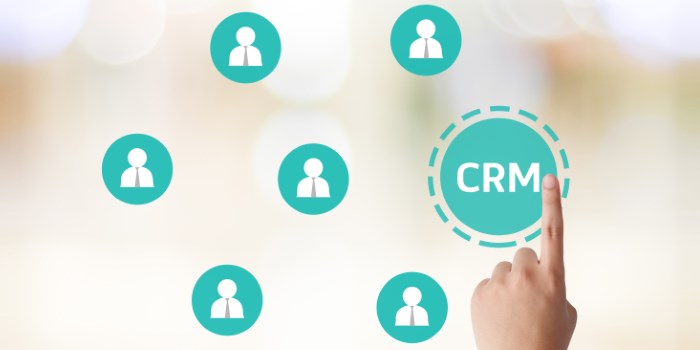 A quick literature review quickly shows that there is growing value for businesses in capitalising on data, and even generating new ones, in order to know their customer better and not be too dependent on the GAFAM that already handle gigantic amounts of data and increasingly rich service ecosystems. I am presenting here a summary of what we consider to be the current main levers that can be pulled by companies to boost competitiveness. Levers which are gradually becoming the pillars of our missions and interventions.
Aside from tools and processes, we have indeed observed during our interactions with customers that raised issues are often about 7 key themes, which we have organised in 3 groups in the following diagram: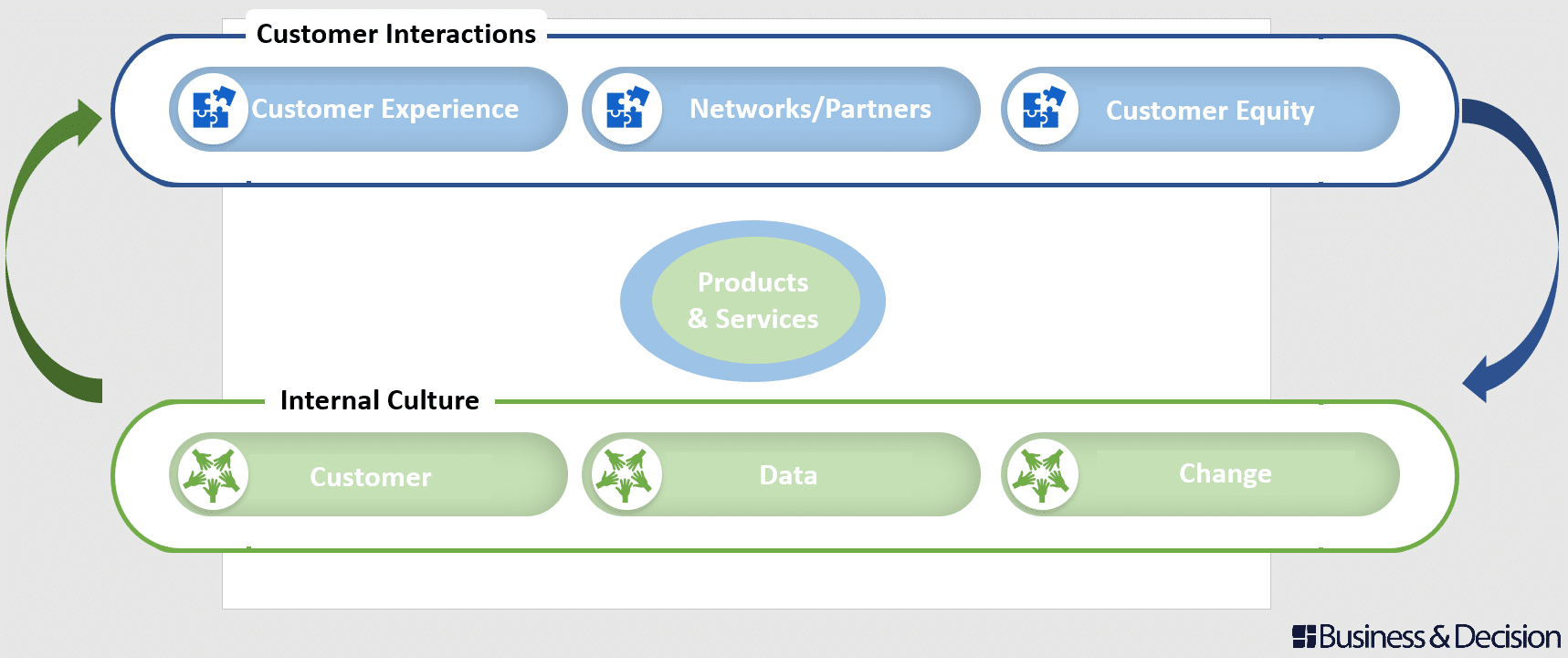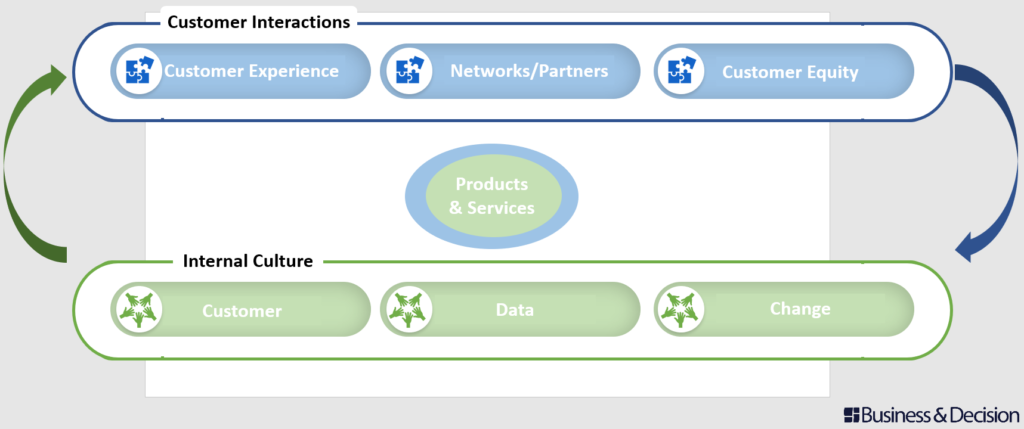 1. Products and services
Products and services constitute the core of business offerings. Even if the type of challenges associated with these products and services differ according to their sector, overall we observed a trend indicating that revenue generated by services is increasingly accounting for a bigger share of turnover, with a strong bend towards recurring revenue (subscriptions) and consumption-based billing ("as a service ").
2. Customer interaction layer
A customer interaction layer is developed on top of products and services, all along the customer journey, from purchase to consumption and repetitive buying. It includes 3 key elements that will help companies to engage customers and build competitive advantage.
Customer Experience is, of course, the first key lever to attract customers (for customer acquisition and loyalty creation) especially in B2C.
Since the widespread digitisation of processes and customer interactions, and the democratisation of Data Science, the ability to collect and exploit Customer data has become the 2nd crucial lever. We talk about "Customer Equity" regarding all relevant Customer data that a company is collecting and exploiting.
For example, chatbots provide today a new interaction channel that can address all three key elements simultaneously, making it a very promising solution (it is also an area in which Business & Decision already has vast experience).
In addition, we have chosen to highlight a 3rd lever: the issue of intermediation between a manufacturer and its consumers (recommendation, distribution, sales and support networks). In such a context it is obviously more difficult to manage Customer Experience and collect data. An historical and usual fact in the Manufacturing sector as well as in the IT sector recently (e.g.: SaaS solutions) as explained by Jay McBain, Forrester analyst, on 6 November 2020.
3. Internal culture
In order to use the 3 previously mentioned levers to one's advantage and create better products and services, we believe that "internal culture" must be based on 3 fundamental attitudes.
Customer culture or customer voice…
First, the customer culture refers to maintaining a constant focus on customer needs and contexts as their relative perception of value matters at the end of the day. Perception being namely a function of the customer's past experiences (e.g.: compared to a more or less close rival product/service), of customer profiles and contexts of use. This involves monitoring, measuring and benchmarking on a daily basis.
Data culture, or customer data by design…
Secondly, the data culture often refers to the attention we paid to facts and performance indicators. Since it seems that marketing has become something of a science, on the one hand, relevant data should be generated for every product, service or marketing lever, and on the other, companies should also aim for the in-house development of skills in data-related fields, such as data governance and data analysis.
Change culture, or test, learn and pivot faster (than your competitors)…
Thirdly, the change culture refers to the company's ability to scale up its internal practices and competencies quicker than its competitors. In fact, getting one's customers to evolve rapidly may also become a success factor, especially within the context of digital transformation projects. For instance: evolving from counters to digital or voice services, agreeing to turn into paperless invoicing etc.
Change culture: Vision – Man – Technology – Innovation
Change culture is a broad subject that involves more than just training and change management. In fact, these topics only address one of the 4 drivers of change identified by us: Vision, Man, Technology and Innovation.
Vision is the company's Top Management's responsibility. It must provide direction and a vision to which employees as well as shareholders and customers are committed (key point for change management).
The Man factor encompasses the various Human Resources management facets, including recruitment, skills management and current change management.
Technology is a very powerful driver ("software is eating the world"),as each new technical capability opens up new horizons (for instance the availability of deeper neural networks helped greatly to improve the quality of self-learning artificial intelligence, as Yann LeCun pointed out).
Finally, through Innovation we refer to the various methods used to promote change (agile or lean methods, startup incubation, meetings, research chairs, ideation workshops, Toyota Kata…).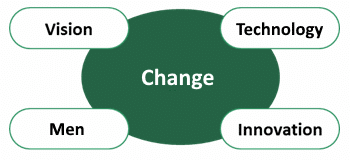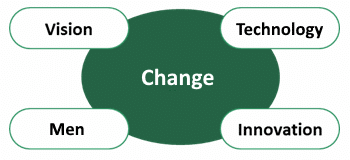 Do not miss our next blog article which will be dedicated to optimising ROI from CRM projects.