Data governance is an essential part of any data strategy. Nevertheless, it remains complex to deploy in a traditional organisation, but through its federated approach, Data Mesh is able to remove obstacles. In this article, we explore the fourth and final pillar of Data Mesh, known as Federated Data Governance.

1- Data Mesh: the ultimate model for data-driven companies?
2- Data domains: Data Mesh gives business domains superpowers.
3- Data Mesh: data is a product
4- Data infrastructure self-service as the technological driving force behind Data Mesh
5- Data Mesh: federated governance to guarantee efficiency
Between 2020 and 2025, IDC estimates that the volume of data generated by businesses will increase from 6.7 to 16.1 ZB. This represents an increase of 10 ZB of data (or 140%) in just five years.
This inflation presents a real challenge to organisations in their ambitions to optimise their data assets. And this is not the only challenge they face and to which governance must in principle provide solutions.
Data Mesh establishes federated governance of data and data products
Governance is still too often perceived as a constraint, a cost item and a brake on the acceleration of data transformation. It is, however, strategic in more ways than one to maximise control and usability of the company's data assets.

It is no coincidence that the Data Mesh concept dedicates a pillar to the importance of governance.
Data Mesh therefore promotes distributed and federated governance with various data domains in the organisation. This represents a redistribution of roles, since the domains are themselves responsible for the governance of their data perimeter.
This includes all operational data governance tasks: mapping, documentation, quality management, etc.
However, this control at 'local' level does not exclude facilitation, supervision and federation at company level. This cross-functional layer ensures compliance with common practices and standards, which are essential, for example, to harmonise documentation and to enable the sharing and reuse of products and datasets.
Federated governance, as prescribed by Data Mesh, therefore requires the use of shared tools. A minimum requirement is the use of a single data catalogue, shared by all domains.
Governance is strategic in more ways than one to maximise control and usability of the company's data assets.

A federating Data Office on governance
The federation of governance is based on unified solutions, but also on a team that centralises standards in terms of describing data. It will thus be able to propose templates, and provide its expertise and support to standardise governance between the different domains.
The Data Office, as it exists today in many organisations, seems to be the perfect choice to perform this unifying role. Some Data Offices already perform this function. But in the context of Data Mesh, this role is extended. Federation does not only apply to 'traditional' data governance. It also includes products. This need will become more and more important as data products are developed by the domains, which could quickly result in several hundred products being made available throughout the company.
Federated governance can therefore be seen as the application of a federal political system to the world of data. This means strong autonomy at State or regional level (here the domains), with responsibilities and obligations imposed at national level (here with federated governance by the Data Office).
How can federated governance be put into practice?
Federation can be implemented in various ways. Think, for example, of the definition of a policy and a choice of tools at Data Office level. The Data Office may, if necessary, delegate governance specialists within the business teams or domains according to the division made.
Having mastered the rules of governance and the functional aspects, those who can be referred to as Data Governance Officers will then be able to ensure coherence between central and local levels. They will also support governance principles specific to the reality of the domains to account for specifics on the ground and avoid overly rigid rules, particularly for products that are not intended to leave the perimeter of a domain.
To put governance into practice in the domains, Data Mesh can build on existing functions within the organisations: Data Owner and the Data Steward.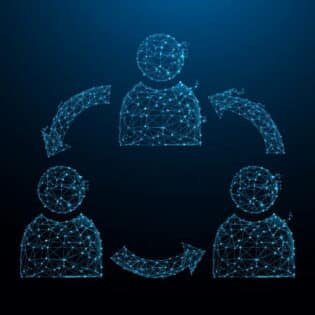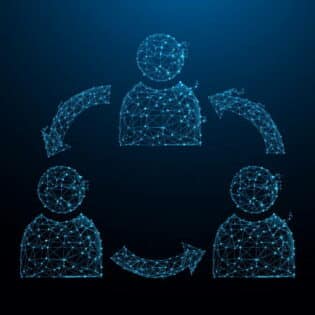 This conception of governance should, in particular, promote gains in terms of agility, a better match with needs and autonomy in the investments and efforts to be made. Finally, Data Mesh could result in the success of governance projects due to a transfer of responsibility to the domains.
The distribution of roles and the involvement of domains can be seen as a powerful lever for the deployment of efficient governance 'by design'. Autonomous and accountable, domains can benefit from improving data quality and documenting metadata.
Through federation, Data Mesh also ensures good coherence across domains. The intertwining of distributed and federated modes thus proves to be virtuous for the entire organisation and its ambition to optimise data. In this respect, federated governance therefore appears to be vital in a Data Mesh operation. It is the 'functional glue' that prevents a relapse into data chaos and ensures the autonomy of domains within a common and collaborative framework.
Data is truly becoming an asset for the company and a lever for creating value in the domains. As such, they have a vested interest in improving this asset and creating products to extract value from it, whether in terms of operational efficiency or new revenue generation.
🔎Banque Postale & Data Mesh: federal governance

To become the preferred bank of the French people, the subsidiary of the La Poste group has defined a strategic plan, in which data is a central component. Although La Banque Postale does not explicitly claim to be a Data Mesh company, its principles do influence its initiatives, particularly in terms of governance.

In this organisation, the Data Office, headed by a Chief Data Officer, counts among its missions that of federating the company's data community (500 people). The CDO, Matthieu Olivier, detailed his approach at the Hubday Data & IA for Business. A new governance at scale is therefore being implemented. It is being presented as 'federal governance' or 'distributed organisation'.

In this model, the role of the Data Office is 'to set the framework, the playing field, and to set its boundaries and also the rules of the game' to orchestrate internal interactions and collaboration. Matthieu Olivier sees the optimisation of data and the management of data projects as a 'team sport'. And this also applies to the governance framework.
Quality, security, silos… challenges to data analysis
In its 'Data Monetization Survey' (November 2020), the IDC notes a strong growth in the number of data sources utilised by organisations. In 2020, more than 50% of EMEA companies operated fewer than 10 sources. Over 70% plan to manage more than 10 sources in the future – with 40% aiming for 20 or more.
This makes their data analysis projects, considered a priority or very high priority by 6 out of 10 companies, more complex (Source: IDC European Future Enterprise Resilience Survey, August 2021). These companies face multiple obstacles in developing their analytical skills and for 53% of them in western Europe, it is security. Also according to IDC (Source: European Future Enterprise Resilience Survey, June 2021), 44% are citing data quality, 36% financial constraints, 32% lack of business strategy and 31% inadequate infrastructure.
The purpose of a data governance policy is precisely, in part, to respond to these challenges. Data governance is an integral part of an organisation's data strategy. Although it is sometimes difficult to involve all the business domains in its implementation, governance is now fully taken into account. Many organisations have embarked on vast projects to overhaul their governance, in particular by introducing federated governance. And even if these approaches do not always claim to be linked to Data Mesh, they do follow the general principles and good practices.
Things to remember
📌Federated governance
📌Operational governance activities supported by the domains
📌Common practices and standards
📌A single data catalogue for the whole company
📌A data office and a CDO as facilitators and federators
📌Governance of data and products
This article was written in collaboration with Christophe Auffray.