For a number of years now, Google has been making Smart Goals available to Google Analytics (website traffic analysis tool) and Google Ads (Google's advertising platform) users. The objective of these "smart" goals is to optimise website performance based on their best sessions and using Machine Learning. Smart Goals are particularly useful for measuring conversions and though limited, the feature helps easily configure goals in Google Analytics. How does it work and what are its limitations? Answers and Overview.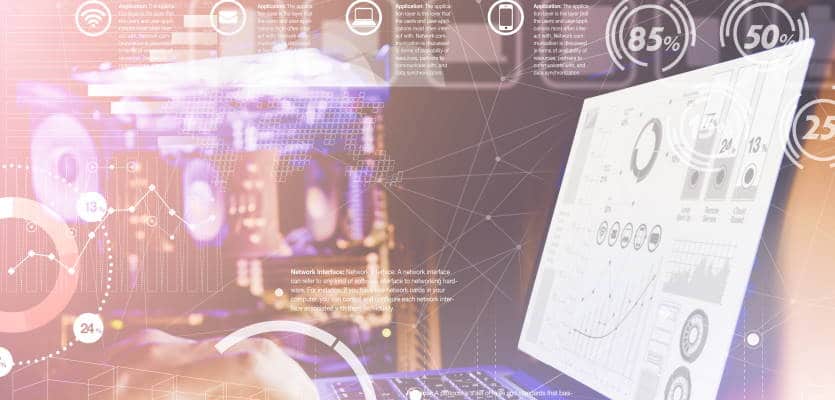 Thanks to its Analytics platform, Google has collected data from millions of sites and is able to identify the model best suited to the needs of your site. Smart Goals provides a means to calculate conversions in Google Analytics, using the power of Machine Learning and as a result, Google can determine which user paths will create an engaging experience. These conversions can then be used to create target audiences in Google Ads and improve retargeting.
How to configure Smart Goals?
Configuring Smart Goals is relatively simple and does not require any specific technical intervention from development teams. Prerequisites are:
Google Analytics must be integrated with your site for traffic tracking
Linking your Google Analytics and Ads (ex-Adwords) accounts
An Analytics profile having editing rights
Access the Admin section of Google Analytics at the View level > Goals and click on: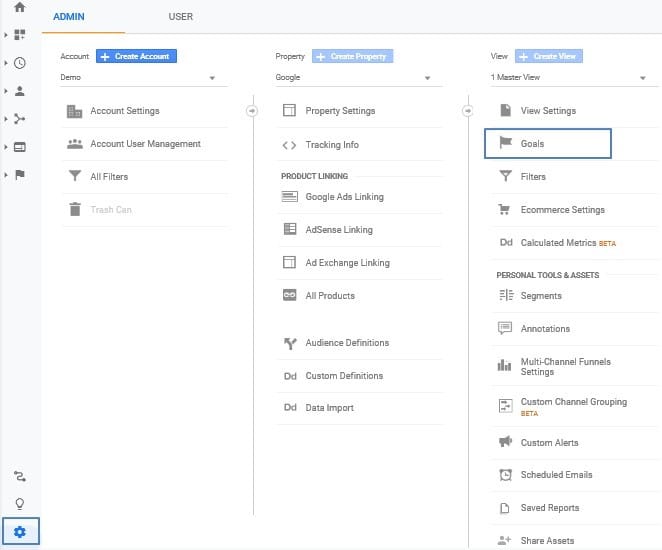 Select Smart Goal, a location in your goals list and save the created goal.
You will then be able to import this goal just like any other goal in Google Ads. Wait a few minutes for the accounts to synchronise before performing the import operation.
In Ads > Tools > Conversions, click on Google Analytics and tick the goal that you have just created to be able to use it in Ads, save by clicking on continue.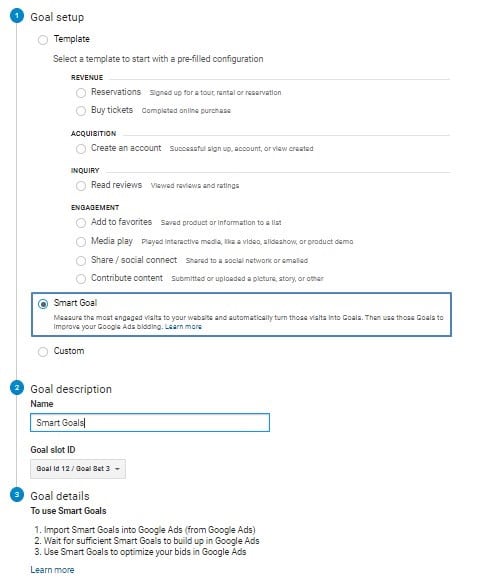 You will then be able to use Smart Goals in Google Analytics to identify sessions converted by these means, and apply targeted advertising from Google Ads to the list of audiences who have expressed interest in your site.
A smart goal is not an end in itself
We are used to Google not revealing all its features' backstage secrets. This is especially true when using artificial intelligence and calculation algorithms based on anonymised data. Smart Goals uses several metrics already included in Google Analytics. Amongst the tens of existing measures, a few will help characterise user engagement on your site.
For instance, we can mention some of these well-known metrics:
Number of pages per session, time spent on the site: the higher the number of pages visited by a user, and the longer (s)he stays on the site, the more the algorithm will consider the user engaged.
Geographic location: Google Analytics data can indicate, based on the IP, whether a particular town or region has a higher conversion rate than another, the calculated rating will then be better and adequate for your site.
Browsers and devices are also naturally analysed and the ones likely to generate deeper engagement revealed.
A minimum of 500 visits per month to be able to use Smart Goals
The analysis of these factors by the algorithm will help assign a rating, based on which the session will qualify or not. A minimum of 500 visits per month from the Google Ads source is required to be able to use Smart Goals. It is paused if traffic falls under 250 sessions. Therefore, this solution is not appropriate for small advertisers. But, the higher the generated traffic, the more efficient the algorithm will be at determining a typical path leading to conversion. Initially, the machine will base itself on 5% of the best sessions from Ads. It will then apply its calculation to the entirety of your web traffic to determine conversions.
Another restriction, this time a maximum, is that the view must not include more than 1 million hits (interactions) per day. If that is the case for your site, we recommend that you apply these goals to a specific market in order to limit the number of queries and fine-tune conversions.
Since it is simple to configure, no customization is possible from Google Analytics. However, Ads is within easy reach and allows the creation of an audience linked to the goal. Thanks to which, you will, for example, be able to associate a Cost Per Acquisition with that goal for a campaign that you will have created. You can also adjust Google search engine keyword bid campaigns, dynamically or manually, depending on the model. Ideally, maintaining control over the cost of keyword bids helps prevent Google from using up the allocated budget on keywords that do not seem to fit your strategy.
Unfortunately, this rating system is currently only applicable to websites and not yet to mobile applications and Smart Goals does not allow cross-device retargeting. In other words, a user qualified as interested on his(her) desktop computer will not be retargeted on his(her) mobile device even if his(her) Google account is shared amongst those devices.
The rating assigned by the AI being unknown, you will then only see whether your audience has converted or not according to Google Analytics.
Whom are Smart Goals for?
Smart Goals are for users who have limited technical resources, little traffic on their website, few or no specific goals already configured, and who wish to simply qualify their audience.
Even though configuring Smart Goals from Google Analytics is easy, it is important to both understand it and use it carefully, by adapting it on a case by case basis.
As is often the case, the involvement of a specialised team and the tracking of indicators are necessary to grasp the true contribution of these Smart Goals and, above all, to optimise them in Google Ads. It is however interesting that Google makes available this easy-to-use feature to characterise audiences and determine whether they qualify for your site or not.
The use of Smart Goals is a first step towards a more global reflection as regards goal definitions for Analytics customers and your Google Ads campaigns. Google regularly perfects its model but numerous advertisers are waiting for the feature to include a cross-channel option. Advertisers would then be able to retarget a desktop user by sending him(her) an ad on his(her) mobile device.