The combined budget of non-profits in France amounts to 113 billion euros, i.e. 3.3% of its GDP. The sector is a major constituent of French society and it is estimated that France is home to 1.5 million active non-profits to which no less than 22 million active volunteers and 1.8 million employees contribute their time…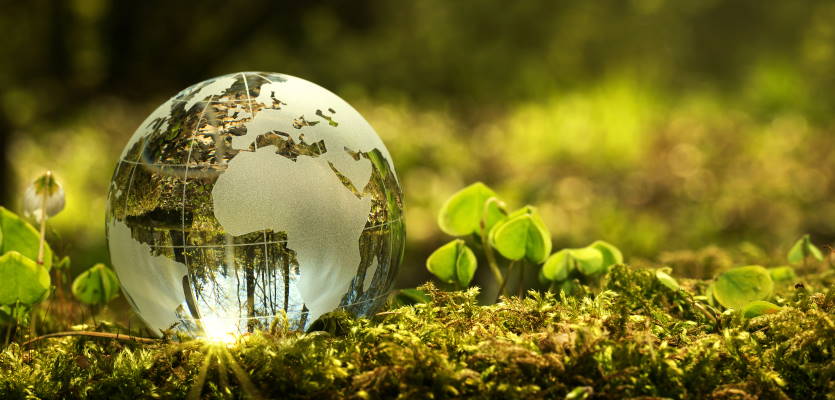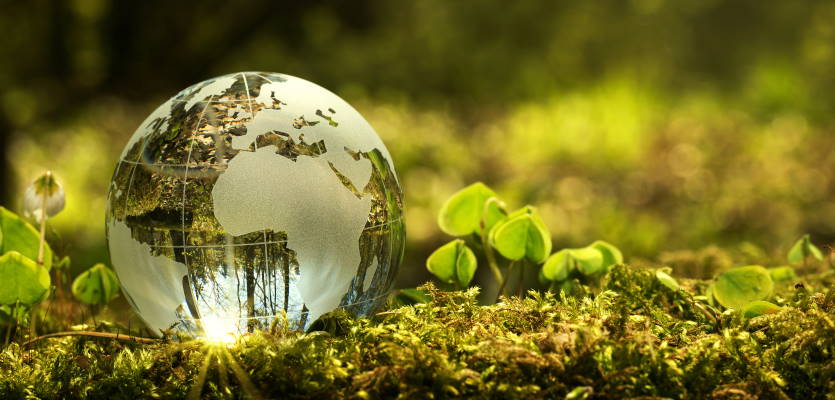 However, according to the 3rd edition of the "La place du numérique dans le projet associatif" (the role played by digital technology in non-profit projects) barometer, a study carried out by the Recherches & Solidarités association and Solidatech, very few of them declare themselves to be digitally mature. And this, in spite of the fact that non-profits expect a lot of digital tools, and their data constitutes a high added value source that it would be a pity not take advantage of it.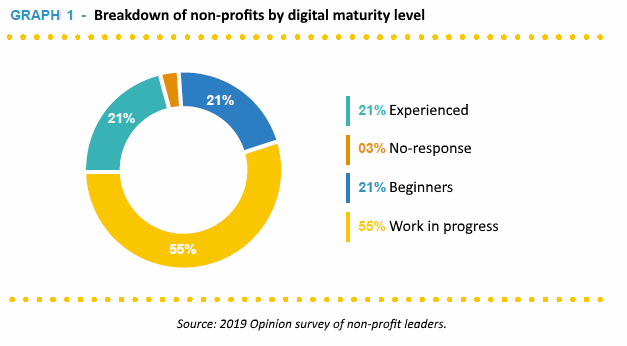 Yet, non-profits harbour strong expectations with respect to digital tools and most voluntary bodies are aware that these tools can help them achieve greater effectiveness in their actions.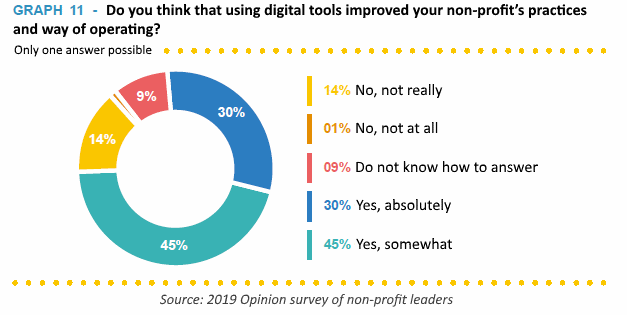 What are these expectations? What are the obstacles? Does a non-profit's digital transformation differ from that of a regular company?
In this article, we will see how non-profits can join the digital revolution and exploit their data to further promote their social initiatives.
Real added-value for non-profits
Although goals pursued by non-profits are by nature different from those pursued by businesses, they do however bear strong similarities.
The following graph highlights the gap between non-profits' expectations and the actual benefits that they derive from digital technology.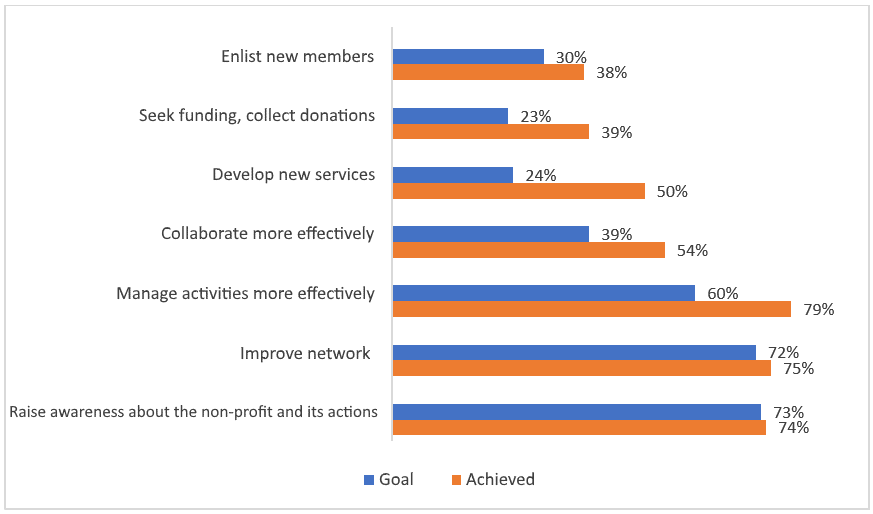 It shows that the results of digital transformation exceed non-profits' expectations in all areas. It can thus be assumed that non-profits' sluggish move towards digitalisation is mostly due to unawareness of the technical opportunities it represents.
Moreover, it can be observed that pursuing resource growth ranks last on their list of objectives which confirms that, by nature, a business and a non-profit do not serve the same purpose.
3 main areas of focus can be identified in their digital approach:
Improving internal and external communication
Structuring their activity and increasing its efficiency
Growing resources
In concrete terms, what can digital technology really do for non-profits?
Let us look at a few examples of what actual benefits non-profits can derive from digital technology in the following areas:
Improving internal and external communication
Communication/Marketing:
Creatign and maintaining a website presenting the association and its actions
Creating, tracking and analysing marketing campaigns
Structuring the various communication channels (mail, telephone, on site,…) and centralising collected information
Social networks:
Community management
Creation of content to broadcast on networks
Analysis of the impacts
Connecting with volunteers and members:
Providing information to volunteers about current and future actions
Moderating and stimulating the community to maintain its level of motivation and engagement
Helping volunteers escalate their suggestions/observations
Connecting with donors:
Automatign communication with donors to provide them with information about achievements and projects
Establishing a donor repository with their contact details, expectations and areas of interest
Structuring their activity and increasing its efficiency
Finance:
Set-up of account management and analytics tools
Management of financial flows
Documentation:
Set-up of document management tools
Record management
Access management and document sharing
Volunteer and member management:
Set-up of tools that facilitate collaborative work
Having a member repository with contact details as well profiles according to expectations, areas of interest, availability, skills
Project management:
Set-up of project management tools that will help non-business people monitor a project and communicate with all stakeholders
Set-up of logistics management tools
Action management and direction of initiatives:
Set-up of task management tools
Implementation of KPI monitoring dashboards
Installation of analysis, forecasting and decision-support tools
Resources growth
Search for funding, donation collection:
Identifying funding opportunities
Creating and qualifying a prospect base
Automatign and optimizing emailing campaigns
Enlisting new volunteers:
Creation and qualification of a potential volunteer base
Automation and optimisation of emailing campaigns
Obstacles to overcome
As previously mentioned, there are numerous benefits to digitalisation and digital transformation yields concrete results for non-profits. So what difficulties are being encountered? Below is a graph that summarises the opinions of non-profit leaders on the matter: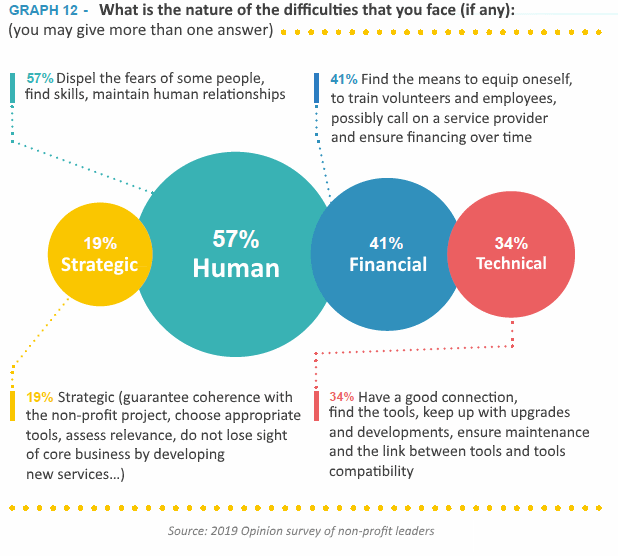 It shows that beyond the financial and technical aspects, the human factor is the main obstacle for digital development in the non-profit realm…as is the case in companies.
Here too, change Management is thus vital for organisations' evolution.
Digital transformation: existing initiatives
Fortunately, several actions have already been taken to support non-profits with their digital transformation journey.
Here are a few examples of communities involved in such activities:
Webassoc.org: body of web professionals that helps aid organisations free of charge, charities and environmental groups strengthen their activity thanks to the Internet. Professionals offer their services to help carry out missions or provide training.
Solidatech: digital solidarity program dedicated to non-profits which aims to provide them with IT references and equipment free of charge or at a "solidary" rate through partnerships.
PANA label: network of organisations that helps non-profits master digital tools and raise their awareness of digital strategies.
Rézolutions Numériques: a cycle of territorial meetings to support non-profits through their digital transformation.
Software tailored to the needs of non-profits
Software has even been developed to meet the specific needs of non-profits.
CiviCRM: open source CRM solution created and maintained by a community of volunteer contributors.
Assoconnect: paid software covering all aspects of non-profit management (accounting, website, donations, members, emailing,…)
Salesforce's NPSP: within the context of the 1-1-1 philanthropic model promoted by its founder, Marc Benioff, (1% of products, 1% of the time and 1% of the company's resources are devoted to improving the world), Salesforce launched a version of its CRM dedicated to non-profits: Salesforce's NPSP. This solution helps organisations of all sizes take advantage of all of the software's features as well as its upgrades. It should be noted that Salesforce provides 10 licences free of charge and then applies an important discount on all additional licence fees. Non-profits can thus harness all the power of Salesforce to successfully carry out their duties.
Non-profits have everything to gain from a digital transition
We have thus seen that non-profits have everything to gain from a digital transition. Besides all the advantages in terms of communication and management, their day-to-day operation can be significantly improved, helping them achieve greater efficiency in their actions. And this is the whole point of the evolution: giving non-profits the opportunity to reinforce their impact on society.
From a technical perspective, solutions initially developed for businesses can be transferred to the non-profit world insofar as the issues are similar. Whether it be at the management, communication or organisational level, new technologies can help non-profits. Why not even think about AI capable of defining new missions for non-profits based on data gathered from the general condition of society…
Solutions to help overcome obstacles to the creation of the non-profit 2.0, thus really do exist. However, just like the non-profit world heavily relies on volunteer contribution, digital transition is only possible if backed up by human resources.
Use case: implementing Salesforce' NPSP for the Jeune & Rose non-profit
On a personal level, I plan to implement Salesforce's NPSP to help the Jeune & Rose non-profit structure. After 2 strong growth years, this non-profit which supports young women with breast cancer, needs tools to strengthen its activity and operate in a more efficient manner, as the non-profit is now widely called on and its services are in high demand.
In 2017, the 2 founders embarked on this beautiful journey, never thinking that their mission would receive such appreciation and support. No true organisational structure had been considered when the non-profit was launched, IT tools being limited to the most basic (use of the Google suite for office automation, Excel files for accounting), and project management being somewhat of a hurried affair. Communication is done through a website and social networks (Facebook, Instagram, Twitter).
Currently they have one employee and volunteers spread across the whole territory. Together, they take care of patient requests, public and private donations, exchanges with donors, applications for funding, events organised throughout the year with an activity peak in October, etc. In short, the organisation is bursting with activity whilst its operation mode is still fairly rudimentary. The main risk identified to date is clearly a loss in efficiency with respect to on-site actions due to difficulties in optimizing a global structure.
In terms of organization, Salesforce's NPSP will help them structure their data, their projects, their tasks, their contacts, … and hence make operations more straightforward and fluid.
The challenge: setting up tools that will facilitate internal organization and operation
Dashboards as well as reports will help easily track project progress and could even be forwarded to donors in order to lend even more credibility to achievements. We will also work together to identify actions that can be automated in order to free up time for initiatives that have real added value.
Moreover, Salesforce's NPSP natively integrates objects and processes that help manage donors and volunteers. More generally, thanks to a proprietary, dynamically updated, contact database, the non-profit will have more coherent and efficient exchanges with partners and patients.
In a latter phase, it will be possible to think about adding other modules such as Marketing Cloud and Community Cloud in order to make search operations even more efficient with respect to donation collection and volunteer organization.
The non-profit world recognises the importance of digitalization. The potential in terms of data exploitation and action optimization is immense. The main obstacle in the way of a digital transition is however not the financial aspect but the human factor. Support structures exist, technical solutions are available but, as is the case for businesses, you must have aptly skilled people to implement and exploit them.
So what about you, do you have any skills that could help non-profits make a difference in this world?