Looking for fast, intelligent exploitation of its mass of data, the Port of Antwerp turned to Business & Decision to optimise and secure the safety and efficiency of its maritime transport. A report.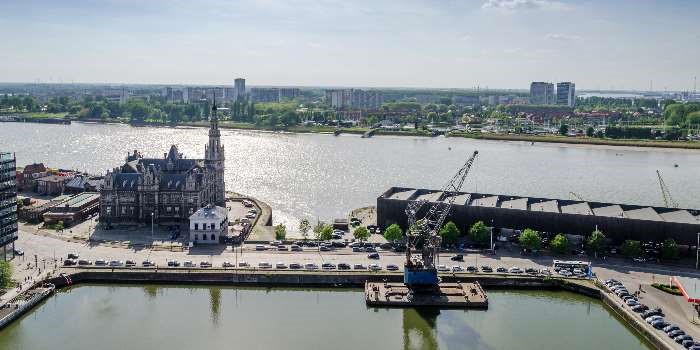 The Port of Antwerp is the second largest port in Europe, with the biggest lock in the world. Every year its infrastructure and organisation staff supervise the travel and visits of 15 000 seagoing vessels and 60 000 inland navigation vessels
Data analysis offers strong prospects to all enterprises, and is particularly valuable when resolving complex challenges. The Port of Antwerp IT department was aware of the opportunity for optimisation that data analysis offered the organisation. They turned to us for the rapid integration of analytical tools into their operations.
Data analysis for opening new prospects
Technology has long played a facilitating role, playing a key role in the optimisation of infrastructures, nautical operations, and logistics. Because of increasing port traffic, growing operational complexity, and the rise in demand for just-in-time planning, its potential continues to grow.
The Port of Antwerp wanted to use the different data sources in a targeted way to open up all kinds of previously unexploited opportunities and uses. "Speed, efficiency and savings are our main motivations," explains Jan Goossens, project leader on behalf of the Port of Antwerp.


We realised that we didn't know how to use and coordinate this huge volume of data to deepen our knowledge and profit from it.

Jan goossens, project leader
"We realised that we didn't know how to use and coordinate this huge volume of data to deepen our knowledge and profit from it." A realisation that essentially came in response to the requirement for an automatic identification system (AIS transponders – a common practice in the air transport sector for years, but only required for maritime transport since 2012).
AIS data, used for real-time visualisation of maritime traffic, was stored for a maximum of three months because of their immense volume. Consequently, they had never been used to collect detail historical information on bottlenecks, peak times, delays, or risks.
Proven know-how and expertise
"We were faced with a multitude of possibilities", adds Jan Goossens. "The processing of all this data demands an appropriate technological architecture, and we were spoilt for choice. We quickly understood that we needed an external partner with proven know-how and expertise to accelerate the project. So we chose Business & Decision."
Things change fast in the world of data. For the port of Antwerp, this is reflected in a multi-component solution based on the Microsoft Azure cloud infrastructure, supplemented by the use of Open Source building blocks like R, Python and Spark.
Informed decisions to identify and anticipate bottlenecks
A data lab was rapidly set up to conduct the first use scenarios. The visualisation of berth occupation was the first to be developed, as it concentrates many challenges for the Port of Antwerp. This first application enabled better monitoring of traffic density. In the event of a claim, or queries about the waiting times at the locks or berths, the Port of Antwerp had previous resorted to the manual counting of vessels, but that was time-consuming and always tainted by subjectivity.
"Thanks to the greater objectivity and accessibility of our data, it's easier to identify and anticipate bottlenecks", says Jan Goossens. "We can take informed decisions and, in any discussion, we are immediately in a position of strength."
Optimising the operational chain in the Port of Antwerp
The second use scenario was developed in order to optimise the operational chain in the Port of Antwerp "To use the limited and intermittently available loading and unloading facilities as efficiently as possible, it's vital to predict accurately the expected time of arrival for every vessel in the port, right up to its arrival at its berth", explains Jan Goossens.
"In some areas, ETA forecasts are not always as precise as they ought to be. This case study was intended to determine the parameters involved using statistical data. Then, we can compare the methods to understand how to manage the process better."


Valuable and promising information sources
Once the architecture has been determined, we can develop it step by step, as new use scenarios are developed and identified. The first data, real-time monitoring using AIS, will be readily accessible to users of the geographical information system (GIS).
Initially, it will provide added value for maritime operations departments, but it will also be a source of valuable additional information for infrastructure managers. Little by little, more and more detailed and accurate data will be fed into the applications of the Antwerp Port Information and Control System (APICS). "This should benefit all the Port of Antwerp's users and partners", says Jan Goossens.
"The current use scenarios are focused on the security and efficiency of maritime transport, but there are many other possibilities for applications and combinations. The integration of the Internet of Things, for example, or automatic quay inspection by cameras on board your own fleet."
Intensive interactions
"Knowledge transfer and co-creation are the key aspects of Business & Decision's approach", explains Pieterjan Geens, Data Science Domain Manager at Business & Decision. "We work in close and constant collaboration with our customers. We rely on the intensive interaction which is crucial for completing the project within the ambitious deadlines."
"This project has been characterised by close collaboration" adds Luc Mertens, Regional Director (Business & Decision). "Our datalab methodology first enabled us to grasp the challenges posed by the port and then to identify and explore the opportunities concealed in the existing data."
Industrialisation after validation of concept
Use scenarios were then arranged in order of their feasibility and their benefits to the business. An initial use scenario was developed in the datalab. This was then used to establish a roadmap for the data, capable of handling as wide a range of future big data projects as possible.
Business & Decision took account of the customer's existing infrastructure and the use scenarios identified, and carried out a comparison of the different relevant technologies. The industrialisation of each use scenario was only carried out after a modelling phase (proof of concept, POC).
A future-proofed platform
In order to choose the most appropriate technology, Business & Decision opted for an approach based on the most high-performance technology, with speed, robustness and scalability the chief requirements. "Although this is a customised solution, that does not mean that it is also the most expensive," stresses Luc Mertens. "Big data is often wrong associated with big money."
We also work with a team very flexible multi-disciplinary team, which has engaged our data architects, data engineers and data scientists at various stages of the project. That way we can develop solutions that are not stuck in the design phase, but remain achievable in practice. We have built the Port of Antwerp a future-oriented platform, capable of undertaking all kinds of analyses and use scenarios."