Holding a Master of engineering degree, Nicolas is sales development director at Interakting, the digital factory of Business & Decision Group. Previously, he's been sales director for software companies. He is interested in the transformation of business models and companies in the digital age.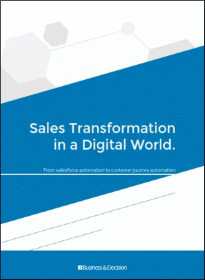 Sales Transformation in a Digital World
Digital has engendered a fundamental shift in the way we behave, think and perform business. This document focuses specifically on the renewed role of CRM in the context of adapting to the new Journey standards.
Download
Premium
Stay in touch
Find us on social networks