Artificial Intelligence (AI): these two words are on everyone's lips at the moment. They carry both hope for unprecedented development and fears revealed by the greatest science-fiction writers. One thing is certain: the subject fascinates and is becoming an unavoidable issue for businesses with the potential value that it brings. An update on the discipline via an informal discussion between Jean-Luc Raffaëlli (architect at the group IT division for Groupe La Poste) and Mick Lévy (Director of Business Innovation at Business & Decision).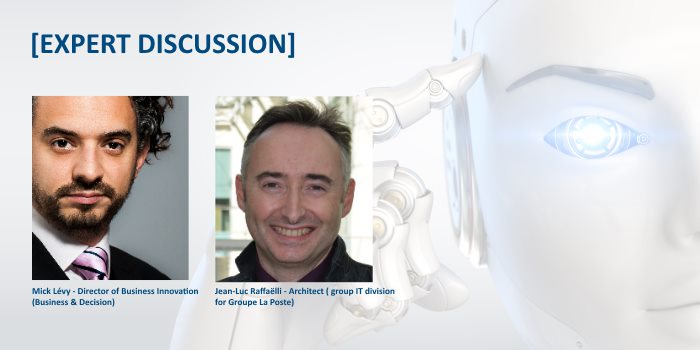 1. Defining artificial intelligence
Mick Lévy: Jean-Luc, it's a real pleasure to meet you here to discuss the intriguing subject of Artificial Intelligence. We are both deeply immersed in the subject and the discussion should be productive! So, to begin at the beginning: what is Artificial Intelligence exactly? How do you define it?
Jean-Luc Raffaëlli: While the definition of artificial intelligence is not unique, it remains an interesting exercise in order to pull out the main concepts. For me, it is the capacity of a system to take decisions autonomously or of adjusting that decision on the basis of observation. The word "decision" appears twice in that definition, which is not by chance. Firstly, because a decision often comes from a "professional", is the fruit of expertise and because the AI is not the umpteenth technological instance of the use of data: the "functional" is fundamental, symbolised by the decision.
ML: I'm with you, the key point is the decision. Jeff Bezos (Amazon CEO), a great visionary on the subject, has recently written a letter on artificial intelligence. There he defined AI as the capacity of a machine to take a complex decision that cannot be defined by of rules that can be described in advance by humans in writing. This shows well the various stages of evolution of automated decision-making in IT.
Above and beyond the capacity to learn (machine learning) and reason (with deep learning in particular), artificial intelligence is also the capacity to interact with the real world (perception of forms and natural language as well as real time interaction). This is what makes the discipline so interesting and allows an intelligence to take shape within an object or a humanoid form.
2. Buzz effect
JLR: It's true… and all of a sudden it's getting close to the reality of science-fiction and everyone is talking about it!
ML: It's clear! Even my mother talked to me about it after she saw something on the 8 o'clock news! The buzz effect has a strong role to play and contributes to the democratisation of the discipline. It reminds me of another portmanteau word that has also become a bit of a buzz: big data.
JLR: Indeed, big data and artificial intelligence are regularly associated. This confusion can be explained by the fact that many people failed to realise the importance of big data for business and really don't want to miss the bus with AI. Sadly, as with big data, we are still seeing the buzz aspect interpreted as "solutions for everything". That limits the scope for dialogue.  It's quite natural, but in contrast, it is fascinating to see the extent to which AI has become important in the eyes of some people working with us. Few subjects have ever spread as quickly, with interest coloured by enthusiasm and uncertainty. The societal aspect is often at the centre of these debates; it is clearly a dimension worth exploring.
3. The complementary nature of big data and AI
ML: A first sign of maturity, the two disciplines are each finding their place, distinct but complementary. Big data is the industrial technology which allows an immense volume of heterogeneous data to be collected, stored and managed. Artificial intelligence is the technology to exploit this data and make it intelligent. At once, specialisations are springing up and the ecosystem overall is becoming more productive and reliable for the whole business.
JLR: The link between big data and AI is clear and corresponds to a business reality. This link is worth maintaining. Sketching broadly, we could say that one has evolved in the field of forecasting, the other in that of instruction, another step forward in terms of autonomy. However, AI is still too often presented as a matter of algorithms or via fantasy images (e.g. robots). This is very restrictive and unhelpful for comprehension. There is a real paradigm shift with intelligence delegated to the machine in real life situations. Remember that we are coming out of a century where this intelligence was instead handled by the developer and then imposed on the machine (rules engines, orchestrators, business services, etc.)
Another point : artificial intelligence in the form of (or rather illustrated as) a delimited physical entity seems very unrepresentative of what will actually be deployed in businesses. The often evoked vision of an AI contained in the confined space of a humanoid being does not help us understand that AI will very often be located in multiple remote systems.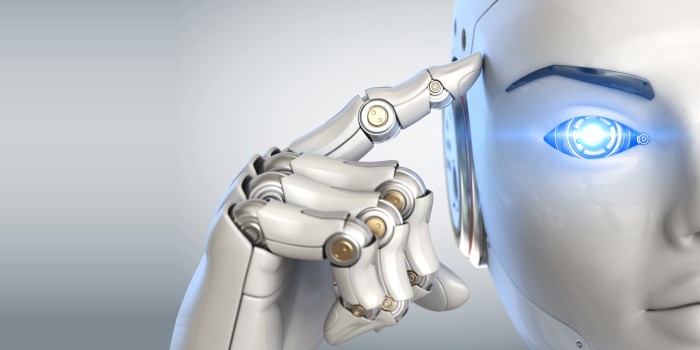 4. Upscaling, IoT and usage
ML: Yes. Indeed, AI cannot function without data. Data is its fuel.  And it is the avalanche of data that is available today which has allowed the current emergence of AI. We are witnessing a real change in scale and we have not yet seen what is to come in this area. Some analysts anticipate that within three to five years, the volume of data we are generating today in a year will be generated in just a second.
JLR: We are in effect touching on the concept of upscaling which is the key to the success of intelligent systems. The ecosystem could well be even more vast than we can imagine. Among other things, the IoT will effectively feed the appetite of intelligent systems for information that is more relevant, more current, making it easier to understand the customer relationship or logistics management in a far more intelligent manner.
ML : the use cases are probably also more readily identifiable because they are closer to our own moments, our own experience as customers or consumers of information services. This is also an explanation for the success of AI among the public.  But business does not stand still and applications are in the process of being generalised at every step: operational excellence, HR, marketing, customer experience, etc. The most visible uses lie for example in chatbots (for example for IT support teams or sales assistants) but new ones are being invented every day!
5. Data-centric and digital-ready information systems
JLR: This effect of scale is a real complexity for an information system. Succeeding in reconciling power, the large scale of data, transversality, often in real time: end to end from the acquisition of the date through to the user interface. It is going to be far from simple to deploy so many services in existing information systems. We have reached a stage where the requirements mean architectures which are far more difficult to implement than data lakes.
ML: Inevitably, information systems will have to be adapted! Indeed, as well as AI, information systems need to be made "digital-ready". It is a major challenge for IT departments. This means retargeting architecture towards micro-services and above all implementing data frameworks able to meet the requirements of new digital uses (real time applications, multi-tenant/multi-use, large numbers of users, variable lifecycles, etc.) It is a sign of the times, we are currently conducting studies for several of our customers to make their IT systems "data-centric".
6. Integrating AI into businesses
JLR: Work needs to be started on basic technical provision, but organisational and functional aspects are also problematic. First, within the business, it is vital to understand and control the impact of AI: this is just a new disruption with a requirement for new skills to be acquired once again, as with big data. Nothing new, recent years have been full of such events. We note that the real interest that brings business leaders onto the subject of AI leads to some optimism about the understanding of the need and the response required.
There is no beating about the bush: today it is no longer possible to avoid the fact that AI will help you win customers (for the best performing businesses), or at least retain them (for those following behind). Responsivity is fundamental.  In practical terms, the cycles of development and transformation of information systems which have been considerably shortened in recent years, along with deployment times, will have to become reliable allies to meet the challenges.
The second group relates to our ability to move fully into the domain of "delegation". Exposing ones assets to benefit from the expertise of start-ups – as it will not be possible to deploy AI in a business using only internal resources – while ensuring that the knowhow does not leak out to the competition: this is no small issue. This is because the transversality which is hard to achieve within a business will be transformed into of multiple intermediation projects. In additional, every information system will need to frictionlessly orchestrate its processes while being able to delegate some decisions to partners.
7. AI and privacy
ML: Another challenge is becoming unavoidable with AI: privacy, respect of people, their freedom and the confidentiality of their data. The European regulation on personal information (the GDPR) frames the processing of personal information but the advanced use of this data by AI is a subject barely touched on by the regulation. The only article that mentions it directly is that on automated profiling and decision making (article 22).
Many countries and organisations are currently reflecting on how to regulate AI. The alarm has been sounded by people such as Elon Musk (CEO of Tesla), Bill Gates (founder of Microsoft) and famous scientists like Stephen Hawking. In France, a national study has been launched at the initiative of the President.  This is not a simple matter. Citizens (indeed, humanity) must be protected from the major risks (unethical use and the risk that the technology will overtake us). And this without stifling creativity, competitiveness and the major progress made possible by AI.
For a business, AI raises questions on personal information but also for the protection of the business itself, its knowhow and its confidential assets.
JLR: AI clearly needs to be backed up by external expertise. Businesses will be confronted by potentially intrusive proprietary AIs. It will also be interesting to see how the open source landscape evolves. While big data has consolidated the key position of open source and standards in IT generally, it can be envisaged that there might be a fall back to forms of AI which are more closed and less prone to being freely reusable.  This is a matter for some concern and calls for study on the fundamental stakes in the protection of corporate information assets. It is still more important given that some aspects of this protection relate to respect for obligations to customers. "Privacy by design" is thus an excellent IT response to regulatory developments. This explains the significant boom in this approach for big data development. With AI, this will need to be extended much further.
Luckily, or perhaps unfortunately, "privacy" does not relate to data alone. It is also tied in to the intelligence that takes shape in the flows and processes constructed by the machine itself, etc. Where does the business's knowhow begin and end? This is a delicate question because activities in more and more business lines will be performed by AIs. The strengthening of activities relating to the protection of the business, knowhow, commercial secrets, and strategic positioning needs to be considered. Information systems are highly exposed in this AI revolution. Let us hope that information systems will be able to become effective partners in the protection of corporate interests.
ML: Thank you Jean-Luc for this intriguing discussion! You are a reader and regularly involved with this blog, an it is always a pleasure.
JLR: Thank you and thanks to Business & Decision.
The book "Big Data et Machine Learning – Les concepts et les outils de la data science" co-authored by Jean-Luc is available from Dunod and from on-line booksellers.