David Hawley is a Senior Principal Consultant in the area of Regulatory Compliance and Computer Systems Validation. Hawley has vast experience the life Sciences Industry, particularly in the areas of Validation and Compliance, ERP systems and Infrastructure Qualification & Management and Production Management of pharmaceuticals and medical devices. Mr. Hawley is a regular writer and presenter of a Life Sciences Web seminar series, writer of articles and presenter on the Life Sciences circuit.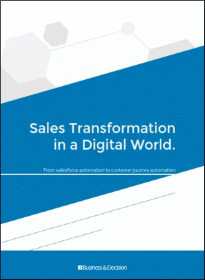 Sales Transformation in a Digital World
Digital has engendered a fundamental shift in the way we behave, think and perform business. This document focuses specifically on the renewed role of CRM in the context of adapting to the new Journey standards.
Download
Premium
Stay in touch
Find us on social networks